Browsing artists added in "September, 2010"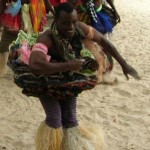 Director Nani Kwashi Agbeli is a native of the Ewe's in the Volta Region of Ghana. He received his dance and drum training from his father, Godwin K. Agbeli. Godwin […]
Some Say...
"Ezra did a wonderful job for our wedding. He kept everyone entertained and out on the dance floor! We couldn't have asked for anything more!! Thank yo..."
About Ezra Dorsey (EZDJ)