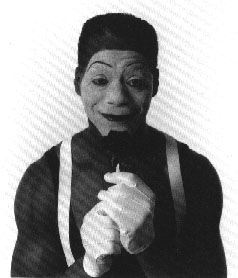 Armenrah
Armenrah the Mime is a self-taught pantomimist who uses this ancient art form to entertain, inspire, amuse and to illustrate stories to audiences of various ages, backgrounds and cultures. He has performed alongside the world famous Marcel Marceau and regularly performs his routines in concert halls, outdoor festivals, churches, librarys, schools business conventions, private parties and weddings.
Rates
: Please call for a price quote.
For more information, and to hire Armenrah, fill out this inquiry form. Or
call us
3 Comments
Some Say...
"I mentioned to Tim that I dreamed about our 30th anniversary party & had imagined how wonderful it would be! It was even better than expected! Tim s..."
About Tim Dorsey