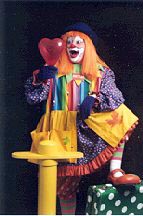 Awtum The Clown
Awtum is so awesome because of her incredible charm with children and
adults. She captures their attention with colorful, fun interaction. Awtum loves
to roam while handing out hand-twisted animal balloons. Games are a favorite
for any event "especially when the clown is the referee! She can add an
artistic touch by providing face painting in clown attire. For more clown fun, ask for Awtum's clown friends!

Rates
: Call office for price quote
For more information, and to hire Awtum The Clown, fill out this inquiry form. Or
call us
1 Comment
Some Say...
"Ezra did an awesome job, we couldn't have asked for a better DJ!!! He played tasteful music that appealed to all of the groups at the wedding old and ..."
About Ezra Dorsey (EZDJ)