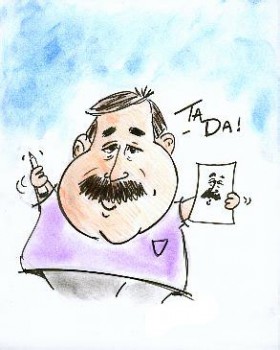 Bill Begos
Bill has been drawing/doodling since he was just a baby. Some say he is still a baby.
His very first caricature was drawn in 6th grade. He remembers this because he was quickly removed from class and taken to the principal's office. The kids loved the drawing the teacher, not so much.
He has been drawing caricatures, cartoons and other fun stuff professionally for over 15 years, 5 years full-time. He also has performed at Comedy Sportz, stand-up comedy, his own improv troupe and has even appeared in commercials.
He offers a whole gamut of caricature and humor related services. Live caricatures for your next party or event. He can produce wonderful gift caricatures from your photos. They are great gifts for retirements, birthdays, anniversaries or anytime you're wanting to honor someone with a special one-of-a-kind memento.
He also provides the 'Caricature & Comedy Show€? by Bill Begos. The show consists of extra large drawings, comedy, music and more. Shows are either, 1/2 hour, or 45-60 minutes in length. They can be customized to fit any age group or need. Great entertainment for your next corporate event, festival or gathering.
Also offering caricature or comedy workshops. These workshops are great for day camps or schools. Educational and fun all wrapped into one creative ball of energy.
No matter what you choose, Bill is always at your service with markers and a smile.
He is looking forward to answering any questions you may have. Take Care.
Rates
: Please call for a price quote.
For more information, and to hire Bill Begos, fill out this inquiry form. Or
call us
Some Say...
"Pete and I appreciate all that you have done for our big day! We knew that you would make it amazing and you still exceeded our expectations! From cre..."
About Tim Dorsey