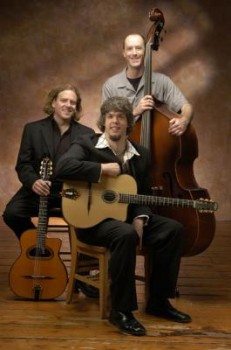 Caravan
Instrumentation
Caravan Gypsy Swing Ensemble performs in instrumentations that range
from duo to quintet.
Chris Ruppenthal – Lead Guitar/Bandleader
Timm Gould – Clarinet
Ed Fila – Lead/Rhythm Guitar
Kevin Tipple – Upright Bass
Ken Leiser – Violin
Biography
Caravan Gypsy Swing Ensemble is Wisconsin's authentic Gypsy Swing
group!
Caravan Gypsy Swing Ensemble is an instrumental group based out
of Madison, Wisconsin. They are primarily influenced by the legendary
Gypsy guitarist Django Rheinhardt. The ensemble also pulls influences
from jazz, swing, traditional Latin, Parisian waltzes, and other
vintage-jazz sources. Expect a range of tunes from the "Hot
Swing" repertoire, originals and classic tunes done in a uniquely
arranged style.
The idea for Caravan G.S.E. started in early 2002 when Chris Ruppenthal,
the group's leader and an aspiring jazz guitarist, first heard
a recording by the amazing child prodigy Jimmy Rosenberg. Jimmy,
a Dutch Gypsy guitarist who played in the style of Django Reinhardt
and the Hot Club of France, would continue to be a huge influence
on Chris. He soon turned away from the American bebop style of jazz
guitar to follow in the long shadow of Django and seek out fellow
Gypsy swing enthusiasts.
Caravan G.S.E. sprang out of that inspiration as a trio of lead
and rhythm guitar, and violin. The trio played a barrage of open
mikes and busked at local farmers markets to get their repertoire
together. They were soon playing parties, nightclubs and swing dances.
The addition of an upright bass player brought further success. Soon
they were recording, and performing more consistently in a large
variety of public and private events.
Caravan Gypsy Swing Ensemble has performed on Wisconsin Public Radio's "Higher
Ground with Jonathan Overby" numerous times, and have become
a favorite of the show. They have also been on various music
television shows around Wisconsin including JATV12's "Arts Live
Show," and "Hear for Your Listening Pleasure." Along
with regular airplay on various programs Caravan GSE has also been
featured on Madison, WI's WORT FM 89.9 live on "The 8:00 Buzz
with Jonathan Zarov."
Caravan Gypsy Swing Ensemble has just released "Repertoire!" It
is a retrospective look back on Caravan G.S.E.'s early demo recordings. "Repertoire" includes
some choice standards, Django tunes, and originals.
Outside of performing regularly and releasing "Repertoire",
Caravan G.S.E. is busy preparing to record "Hot String Swing",
their first official FULL LENGTH CD! It is scheduled for release
in fall of 2005. "Hot String Swing" will feature
an expanded band lineup and will include a variety of original music,
arrangements of Django Reinhardt classics, standards, waltzes and
Latin tunes.
Rates
: Please call for a price quote.
For more information, and to hire Caravan, fill out this inquiry form. Or
call us
Some Say...
"Tim did an AMAZING job at our August 4th wedding! Everyone is still talking about "how awesome" our DJ was! Tim was so easy to work with before and du..."
About Tim Dorsey