Browsing artists in "Jugglers"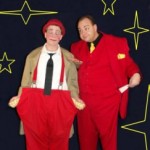 Miller and Mike have worked as professional clowns and comedy entertainers for years. They have toured the U.S. with Ringling Bros. and Barnum & Bailey Circus including shows at Madison […]
Some Say...
"Mr. Billy was fun, energetic and totally related to his audience. Mr. Billy's songs and guitar playing were fantastic! What a great medium to get acro..."
About Mr. Billy