Browsing artists in "Mimes"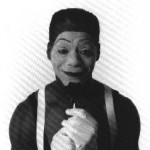 Armenrah the Mime is a self-taught pantomimist who uses this ancient art form to entertain, inspire, amuse and to illustrate stories to audiences of various ages, backgrounds and cultures. He […]
Some Say...
"Tim absolutely made it the best day of my life. His singing was so good that people didn't know the difference between his signing and the cd version...."
About Tim Dorsey