Browsing artists in "Dancers"
Kahina has been performing the beautiful art of Middle Eastern Dance since 1997. She has performed at many functions from weddings to fundraisers. She is available to entertain at your […]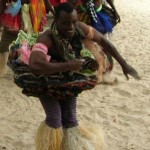 Director Nani Kwashi Agbeli is a native of the Ewe's in the Volta Region of Ghana. He received his dance and drum training from his father, Godwin K. Agbeli. Godwin […]
Some Say...
"We had an amazing time and Hannah, Jed, and Jenny did a wonderful job. We were asked by many people who the dj company was and told how great you all ..."
About Hannah Dorsey