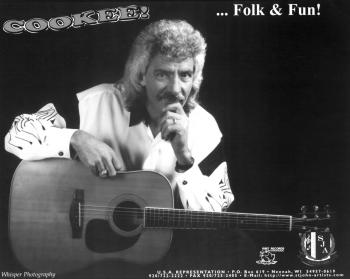 Cookee
Originally from Denver, Colorado, Cookee has toured this country extensively for the last twenty-three years. He has performed in over 600 cities in 26 states.
Cookee is also the drummer/front man for one of Wisconsin's top dance/show groups, "The Hits." Cookee has been in the opening act for numerous national groups, including; The Beach Boys, Sha-Na-Na, America, The Association, The Guess Who, Tommy James, Hermans Hermits, Lou Christie, Leslie Gore, Gary Puckett, The Grass Roots, Steppenwolf, Paul Revere & The Raiders, Tommy Roe, Peter Noone, The Buckinghams, Bobby Vee, Paula Poundstone and the Mama's and The Papa's.
Over the past twenty-three years, Cookee has performed in concerts, clubs, weddings, fairs, festivals, day cares, churches, schools, conventions, hospitals, and just about any other place that you could imagine.
Rates
: Please call for a price quote.
For more information, and to hire Cookee, fill out this inquiry form. Or
call us
2 Comments
Some Say...
"Hannah was fantastic! She was so easy to work with and make changes on the fly. The group was up and dancing in no time. Everyone said she did a great..."
About Hannah Dorsey