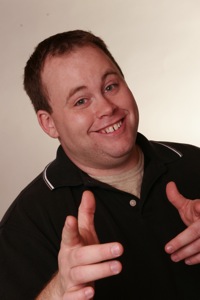 Dan Swartwout
Dan Swartwout is a nationally touring stand-up comedian who performs at comedy clubs across the country. Dan was selected for the Boston Comedy Festival, won the 2005 Carnival Cruise Comedy Challenge in Ft. Wayne, Indiana, and has been the studio audience host for the Ohio Lottery game show, Make Me Famous, Make Me Rich.
Additionally, Dan has performed at private events for numerous organizations including Nationwide, the United States Marine Corps., and the American Cancer Society.
Comedy Clubs
*Comedy Catch — Chattanooga, Tennessee
*Comedy Zone — Charlotte, North Carolina
*Funny Bone — Columbus, Ohio
*Funny Bone — Virginia Beach, Virginia
*Go Bananas — Cincinnati, Ohio
*Junior's Last Laugh — Erie, Pennsylvania
*Snickerz Comedy Bar — Ft. Wayne, Indiana
*Wiseacres — McLean, Virginia
*Comedy Cabana — Myrtle Beach, South Carolina
*Comedy Zone — Jacksonville, Florida
*Funny Bone — Newport, Kentucky
*Funny Farm — Atlanta, Georgia
*Improv — Cleveland, Ohio
*Laffs — Tucson, Arizona
*Stardome — Birmingham, Alabama
*Wits End — Westminster, Colorado
And many, many more….
Dan Was…
*Selected For the 2003 Boston Comedy Festival
*Selected For the 2004 NACA Northern Plains Regional Conference
*Winner of the Carnival Cruise Comedy Challenge in Ft. Wayne, Indiana
Select Private Events…
*Accenture Consulting
*Armstrong Coffee and Vending
*Carlile Patchen and Murphy, LLP
*Lions Club Northwest Ohio Conference
*Ohio Parks & Recreation Department
*Schaumburgh Flyers Minor League Baseball
*The Sygma Network
*American Cancer Society
*Borden Chemical
*Columbus Mortgage Bankers' Association
*Nationwide Financial
*repairclinic.com
*Southern Mill Creek Products
*The United States Marine Corps.
Rates
: Please call for a price quote.
For more information, and to hire Dan Swartwout, fill out this inquiry form. Or
call us
Some Say...
"Ezra was one of the best decisions we could have made for our wedding. He was a saint to work with and was there for me whenever I needed him. We go..."
About Ezra Dorsey (EZDJ)