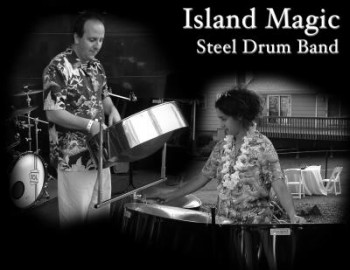 Island Magic
Island Magic is a two piece steel band consisting of Chris and Marisol and have been together for over 6 years and have a combined performance experience of over 40 years. They have played with many of the big names in steel drum, Robert Greenidge, Ken 'Professor€? Philmore and Earl Brooks to name a few. Chris Kuborn has played in all sizes of steel bands from small combos to large 30 piece steel band orchestras playing complex Trinidad 'Panorama€? style arrangements. He has toured the US, Canada and Israel with some of these groups. Marisol began playing percussion in Chile, studied classical and Brazilian percussion in Montreal, Canada and has played in large 20 piece steel drum ensembles, Brazilian Samba ensembles, orchestras and chamber groups.
They have played in New York City, Philadelphia, Pittsburgh, Washington DC and up and down the Atlantic seaboard. They have played for the LPGA, the rededication ceremony of Ellis Island, the Red Cross of the North East US, the American Heart Association, PNC Bank and Bank One, British West Indies Airlines, University of Delaware, University of Pennsylvania, Baltimore Carnival and the East Orange Carnival of New Jersey. They have conducted workshops and master classes in Montreal, Delaware, Pennsylvania and New York.
While they play all the classic steel band melodies from artists like Harry Bellefonte, Jimmy Buffet and Bob Marley we also play compositions from many Brazilian artists, Jazz standards and contemporary Latin tunes, Classical music of all time periods as well as Christmas music. We play reggae, soca, calypso, jazz, bossa novas, classical works, even a polka or two with a new twist!! They deliver a high quality experience for the listener that is unmatched in the Midwest.
They are available for Wedding ceremonies and Cocktail hours; Parties and Themed Corporate events. Demonstrations and Workshops.
Rates
: Please call for a price quote.
For more information, and to hire Island Magic, fill out this inquiry form. Or
call us
Some Say...
"Tim, Thank you so much for playing for our wedding receptio! We had such a great time and were very pleased by the music! Thank you for all the songs..."
About Tim Dorsey