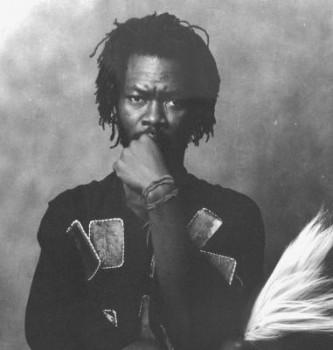 Kwame
Kwame & Wan Afrika performs original root's rock reggae.
Musician/Poet Kwame credits his musical upbringing to his "elders" and the general environment of his home base in Ghana, West Africa, where his roots first blossomed. "There was drumming, and dancing, and of course singing," says Kwame.
With his seven-piece band Wan-Afrika, Kwame hits the stage and lets you know that the African Roots Ambassador has arrived. He sings of the joys and sorrows of humanity, never forgetting his humility. The band has performed throughout the USA sharing the bill with notables like Third World, Mutabaruka, Pato Banton, Sonny Ade, Wailing Souls, Sonny Okusun and many others. Kwame has been the recipient of many industry awards and honorable mentions including: Martin International's Chicago Reggae Music Awards "Best Artist" and "Most Culture-Oriented Band".
To educate and entertain, Kwame incorporates his heritage into the performance. "I feel education goes beyond the classroom. We bring culture to the people. We teach knowledge of the self," he said. Kwame has the advantage of dual residency which enables him to keep his finger on the vibrant pulse of reggae music here in the US and throughout the Diaspora. Kwame and Wan-Afrika are reflective of a universal harmony. Bringing people together through music.
In June of 2000, Kwame released "How Sweet It Is." This critically acclaimed CD has been featured on WNUR, KCRW, WHPK, WLUW, and KRCL to name a few. Look forward to Kwame's upcoming summer 2002 release "O.A.U." featuring guest guitarist Junior Marvin of the Wailers.
Kwame & Wan Afrika is available for campus and community engagements throughout the United States.
Core Members
Kwame Bediako:
(Lead Vocals, Guitar) Kwame has been influenced by many though none stand out more than the Marley legacy. Kwame's inclusive lyrics and gentle delivery comes through the burst of energy he imparts to his audience.
Abdul Hakeem: (Guitar) Abdul Hakeem is one of Chicago's foremost contributors to the genre. Performing with the likes of Herbie Hancock, Judy Mowatt, and Burnin' Spear, Abdul's playing is deeply rhythmic, optimistic, and crosses several spheres of musical influence.
George (Razor) Mills: (Drums) Razor's moniker is derived from his sharp and crisp style of drumming. He provides a solid foundation and a pulse that is guaranteed to make you move.
Hiram Roots: (Bass) Hiram holds down the bottom. His solid connection with the €˜riddim' provides an endless dancing groove, while his playing is reminiscent of €˜Family Man' Barrett.
Vincent (2V) Varco: (Keyboards) Award-winning keyboardist 2V offers up a world of influences. Roots at heart, his non-stop organ €˜bubbling' percolates throughout the music. A Marley devotee, Vince styles his performance accordingly.
The I N I's: (Back-up Vocals) This powerful duo rounds out the sound of Wan Afrika. Their smooth delivery provides the perfect foil for Kwame through call and response vocal arrangements.
Rates
: Please call for a price quote.
For more information, and to hire Kwame, fill out this inquiry form. Or
call us
5 Comments
Some Say...
"We had Ezra for our wedding reception. He did an amazing job! Our wedding was over a month ago and we are still getting comments on how much fun ever..."
About Ezra Dorsey (EZDJ)