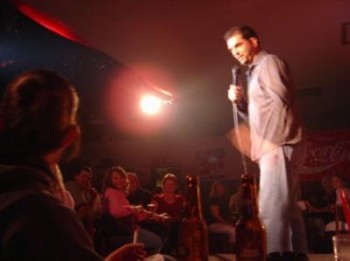 Mike Merryfield
The last few years have been busy ones for Mike; In 2003 he was the voice of the '100th Anniversary Reunion Bash' at the infamous Milwaukee Mile in Milwaukee, Wisconsin. Mike was also the host of 'Playboy's Miss Reunion Bash Beauty Pageant'. Mike also performed at 'Harley Davidson's 100th Anniversary Reunion' as well as 'Harley Davidson's 95th Anniversary Reunion'. He also appeared at 'Summerfest' in Milwaukee, Wisconsin from 1998-2002. In 2004 Mike was invited to perform at the Boston International Comedy and Movie Festival. Making in an even better year, Mike made his debut on XM and Serius Satellite Radio. Although his first love is stand up, throughout his career Mike has dabbled in radio. Over the years he has hosted three comedy morning shows. In 2004 Mike added 'entertaining the troops' to the list of things he has accomplished. He toured Asia performing in Korea, Japan and Guam. Mike brings his unique style and likeability to comedy clubs and corporate events across America. His exposure to comedy and life on many different levels has allowed him to develop a refreshingly new style. His quick wit and adaptability make him a comedian that everyone will enjoy.
Rates
: Please call for a price quote.
For more information, and to hire Mike Merryfield, fill out this inquiry form. Or
call us
9 Comments
Some Say...
"Simeon, Thank you so much for making our wedding day such a blast. Everyone would not stop talking about the dj after the reception had ended. We th..."
About Simeon Dorsey