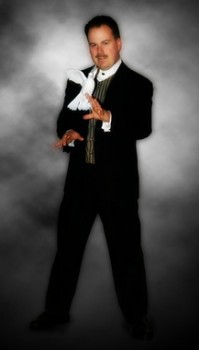 Mike Von Schroeder
Who is Mike Von Schroeder? Mike is an accomplished performer that specializes in Corporate Entertainment. Mike flawlessly blends high-energy humor and amazing magic with your organization's theme and identity to captivate the entire audience. The audience will be seduced by Mike's magic and charmed by his comedy. They'll take the magic and the moment with them when they leave.
Mike excels in every corporate venue, from dinners to parties, trade shows to hospitality suites, and ceremonies to sales meetings.
The Comedy Magic of Mike will make your next function the most remembered event of the year!
Rates
: Please call for a price quote.
For more information, and to hire Mike Von Schroeder, fill out this inquiry form. Or
call us
4 Comments
Some Say...
"Tim, You did a wonderful job - everyone enjoyed the music. I wouldn't have changed a thing... except to make the whole day last longer! The whole t..."
About Tim Dorsey