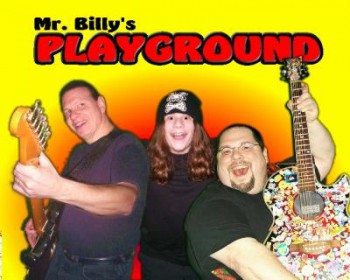 Mr. Billy
Mr. Billy began playing guitar and writing his own songs when he was only 9 years old, He has toured all across the USA and Canada. His unique rock and roll style has a contemporary sound that kids (and parents) instantly relate to. At a Mr. Billy show, everyone gets into the act. His presentations are always upbeat, interactive and educational and just plain fun!
When he's not on tour or writing and recording his own music, Mr. Billy guides elementary school students in the composition and recording of their own original songs at his ground breaking 'Six-Trait Songwriting€? Artist in Residency program. He also contributes a regular columns to 'Pass it On€? (journal of International Organization 'The Children's Music Network) and other children's/parenting magazines. He regularly performs at over 200 schools, libraries and special events each year including a regular headlining appearance at Wisconsin's largest Kids Expo held in Madison.
Mr. Billy has been repeatedly voted 'Northeastern Wisconsin's Family Favorite Children's Entertainer€? and his original CDs are national award winners.
Rates
: Please call for a price quote.
For more information, and to hire Mr. Billy, fill out this inquiry form. Or
call us
8 Comments
Some Say...
"Tim did a great job. Everyone had said it was the best and most fun wedding that they have ever been to. Thanks for everything Tim!..."
About Tim Dorsey