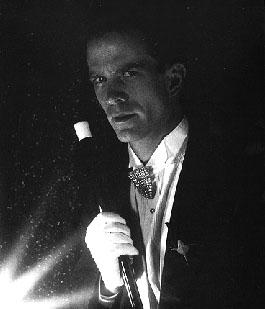 Rondini
Rondini is a full time professional magician. He has over twenty years of experience performing in the midwest and averages almost three hundred performances a year. He can perform close up magic with cards and coins within inches of your eyes, he can make balloon animals or he can perform large scale illusions. Rondini is available for birthday partys corporate, festivals, churches, public and private events.
His shows use plenty of audience participation and can contain magic to music and live animals including a rabbit, doves and a 40″ green winged macaw parrot. His shows are suitable for children, adults or mixed audiences. If desired, Rondini can be hired as an emcee for your event.
Hypnotism
Ron Lindberg is available to perform a comedy hypnosis show for corporate groups, fairs, festivals, College and High School groups. Ron has been studying the art of stage hypnosis since 2002 under his good friend Ray Thompson a professional stage hypnotist from Iowa. In a recent interview Ron said:
"I have always been fascinated with the art of Hypnosis and have wanted to learn this form of entertainment for many years. Whenever I present my magic shows I run into the same problem that all magician's (including David Copperfield) do. Some audience members, while entertained, still understand that what they are seeing is a trick, an illusion. With hypnosis, what the audience sees is 100% real. It is recognized by the scientific community as fact & hypnosis is used in the world today in a variety of ways. Police use it as a way of helping a witness remember events, athletes use it to improve performance, and it can be used to change undesirable behavior such as over eating and smoking. While I will never give up my original love of performing magic, hypnosis offers me another way of entertaining my clients."
A hypnosis show by Ron Lindberg provides good clean fun. At a magic show by Rondini, Rondini is the main "star" of the performance but in a hypnosis show, the audience members are the stars. Imagine seeing someone convinced that they are Madonna or Shania Twain or watch a man (perhaps your friend, spouse, or boss) hypnotised and certain he is 9 months pregnant. Then watch between tears of laughter as he goes through the process of giving birth!! Where else can you see these acts but during a Hypnosis show by Ron Lindberg?! Also, remember that a Hypnosis show by Ron Lindberg is backed by almost 30 years of performance experience by one of the states busiest entertainers. Each show is about 60-90 minutes in length and if desired, you can even combine the award winning magic & illusions of Rondini and a hypnosis show by Ron Lindberg into a full evening of entertainment which will leave you and your guests talking for months!!!
Rates
: Please call for a price quote.
For more information, and to hire Rondini, fill out this inquiry form. Or
call us
Some Say...
"Awesome time!! I seriously didn't want my reception to end! Ezra did an amazing job, super friendly, and fun!! EVERYONE loved him! Thank you!! D..."
About Ezra Dorsey (EZDJ)