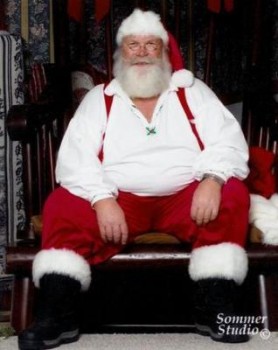 Santa Claus (Walt)
I started as a history reenacter 30 years ago (pre 1840's). I have been SANTA for about 10 yrs .
I have been on the 2006 & 2007 Fleet Farm Toy Catalog Covers ; on the the Fleet Farm TV Christmas Commercials 2006 and in the New London Christmas Parade plus "Christmas of Yesteryear" with the children (2001 thru 2005 ).I have been Santa at St. Joes Nursing Home plus some private parties .
COMMERCIAL
Fleet Farm Christmas Santa
PRINT
Fleet Farm Toy Catalog Toy Catalog Cover
Fleet Farm Sales Flyers
LIVE EVENT/PROMOTION
Christmas of Yesteryear New London Christmas Parade Meet with Children in theater
Little Chute JC's meet Children Embarras Fire Dept. meet Children
SPECIAL SKILLS: OTHER
"Living History" Reenactor pre 1840″s
Rates
: Please call for a price quote.
For more information, and to hire Santa Claus (Walt), fill out this inquiry form. Or
call us
Some Say...
"My husband and I were at your show at Nitwit's last night. You have got to be one of the funniest people alive. This was our first comedy show and you..."
About Mike Merryfield