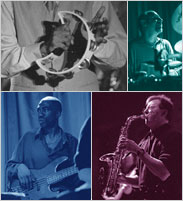 Streetlife
Streetlife with Warren Wiegratz performs a unique blend of R&B, Smooth Jazz, and Contemporary styles, combining superb musicianship and vocals with an exciting stage presence. They have been honored with many nominations and awards at the Wisconsin Area Music Industry Awards (WAMI), including "Best Adult Contemporary Group" and "Best Contemporary Jazz Group" in Wisconsin. Their first release Both Sides of the Street received outstanding airplay nationwide and their latest release Silent Conversations is played on "Smooth Jazz" radio stations across the country. Streetlife has been featured on a national television broadcast on TNT and in the worldwide music publication Roland Users Group Magazine.
The house band for the NBA's Milwaukee Bucks, Streetlife also has performed for the CBA's Sioux Falls Skyforce, Quad Cities Thunder, and Rockford Lightning and at several CBA Championship Series games.
Streetlife plays throughout the year at many regional and national music festivals, including Milwaukee's Summerfest and Rainbow Summer, while regularly conducting numerous music clinics and concerts at high schools and colleges throughout the state of Wisconsin.
Vocals / Bass / Guitar / Percussion / Saxophone / Flute / Drums / keyboard.
Some Say...
"Simeon was awesome! Everyone had a great time, especially us! The crowd loved him and are still commenting about it being the greatest wedding and p..."
About Simeon Dorsey