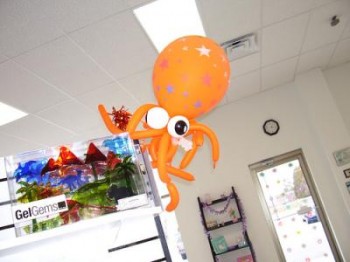 Stacey the Balloon Girl
The Balloon Girl makes amazing balloon sculptures and is fun to watch as the balloons become alive at her command. She is a treat for any event.
Stacey was voted 2003 Fox Valley Kids (Magazine) favorite Children's Entertainer
She won 2003 International Street Performance competition
Stacy has been doing balloons for 12 years since she was 7, she was the youngest competitor at the TJAM balloon conferences. she is a columnist for BalloonHQ.com.
She has experience in decorating with arches, columns, and large balloon sculptures. She did the decorations for Oshkosh North High School's winter dance. And also did decorating for the Oshkosh Chamber's events, and the Mayor's Breakfast.
She has done balloons all over the state for the Wisconsin Library System. And for larger companies such as Thrivent Financial for Lutherans, Oshkosh Truck, Pinkerton (Security), Hartwig Transit, Cumulus Broadcasting (103.9 The Valley's Best Oldies (WVBO) and 99.5 The Wolf (WPKR)), and Beaver Dam's Dodge Country Fair through WXRO (95.3).
Rates
:
For more information, and to hire Stacey the Balloon Girl, fill out this inquiry form. Or
call us
Some Say...
"TIM IS THE BEST!! He was absolutely incredible at our wedding reception. He was very professional and easy to work with. He knows how to keep the pa..."
About Tim Dorsey